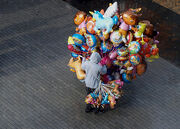 Scooby-Doo is a walk-around character that appeared at Canada's Wonderland daily, as of the 2000s, at front gate and in Scoobyville.
Part of the Hanna-Barbera Land characters, he was the final remaining walk-around in the Nickelodeon Central era.
His final season was 2009, before being replaced by Snoopy.
The program, "The Hanna-Barbera Program", has stated that they are interested in restoring Scooby.